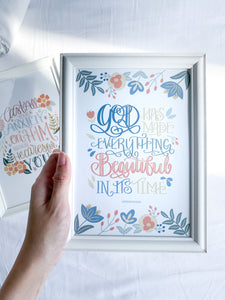 "He has made everything beautiful in its time. He has also set eternity in the human heart; yet no one can fathom what God has done from beginning to end." -Ecclesiastes 3:11
Available in 5R, A5 and A4 sizes.
A lovely lettering piece with beautiful floral design to bring love and joy into any space. 

Printed on quality photo paper for rich and long-lasting colours.

Colours may differ slightly from photo due to computer screen setting.

Ships flat with protective backing and plastic sleeve.

Framed options is only available for A4 size.

Only courier option can be selected for framed items. Free courier for orders above $60.